7 things to know about glass dispenser set before you buy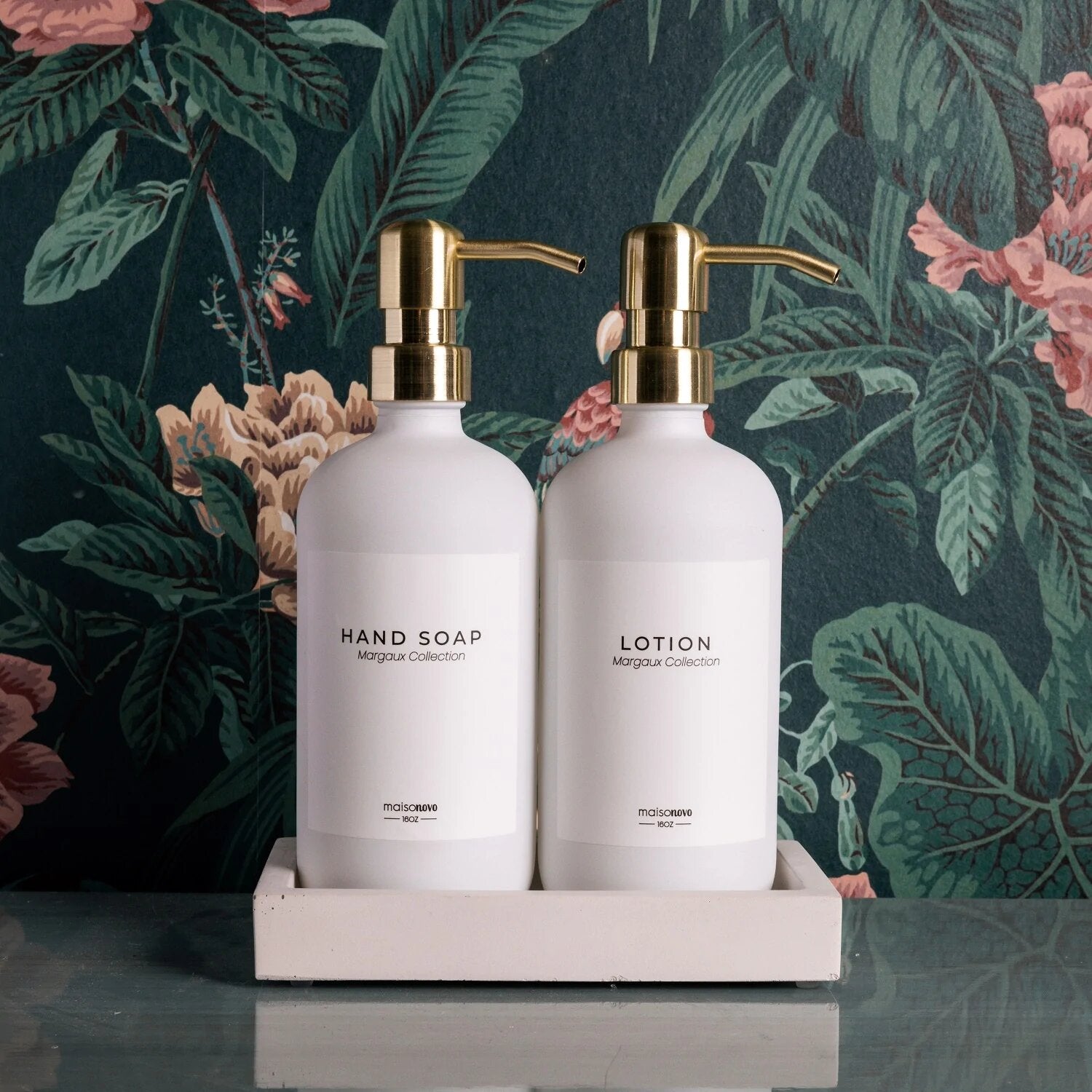 Are you looking to change the decor of your restroom or kitchen? The glass soap dispenser set will be a perfect choice. Adding style to your restrooms is easy with these elegant hand pumps. The consistent release of soap from soap dispensers further saves money.
A cheap soap bottle will clutter your tabletop. You can make a handy difference by buying a glass soap and lotion dispenser set. Several different soap dispenser designs and finishes are available to suit your bathroom decor.
The hand soap dispenser pump is composed of many parts that work together to deliver a specific amount of liquid. And you'll be able to use it for foaming soap. The amber glass soap dispenser is able to filter out ultraviolet light and is primarily used for UV-sensitive products such as personal care products and active chemical ingredients.
Manual dispensers allow you to pump the soap with your alternative hand, which is a convenient feature. Find out how glass soap dispensers work in the following section.
What Is a Glass Soap Dispenser Set, And How Does It Work?
Generally, a glass soap dispenser set is used to dispense soap (mostly in single-use quantities). It will either be operated manually or automatically. Different colors are available for the glass soap dispenser sets. 
Handwashing soap or foam soap dispensed with the manual dispenser by a pump. A tube connects the pump to the chamber where the soap is placed. Applying pressure to the pump releases air from the tube to create a suction force. The pump nozzle draws the soap to the tube and dispenses it.
Foaming soap dispensers work differently than automatic ones. In order to make a lather for handwashing, they need two main chambers to combine air and soap. The pump pushes air into the soap chamber, creating a lather that is dispensed. 
7 Features of Glass Soap Dispenser Set
Bring Style to Your Restrooms
Glass dispenser sets are as fashionable as any ornament. 
When placed in a hand-made concrete soap tray with a waterproof coating, they provide a luxurious look. This glass bottle dispenser has a water-resistant label that adds to its appeal. The white glass bathroom soap dispenser set would impart a fantastic look and feel. You'll notice premium hotel rooms have these dispensers.
Affordable
In recent years, glass dispenser sets have become increasingly popular. Although their value could vary depending on their quality, they are still affordable because they reduce soap costs. In short, they do not disturb your budget.
Reusable
The greatest advantage of the glass soap dispenser set is that it is reusable.
You can refill soap in them as repeatedly as you would like. You'll be able to use them to fill the other liquid additionally.
Depending on their condition, you'll be able to recycle glass soap dispensers. These soap dispensers come with fortified glass bottles, stainless steel pumps, and pump cores, making them last for years. 
Easy-to-use
The ease of use of glass soap dispenser sets makes them superior to similar products. It is easy to operate these hand soap pumps. Simply press the pump with one hand and receive the soap you need with the other. Additionally, these bottles are effortless to maintain. 
Maintain Proper Hygiene
Using soap bars isn't sanitary. It will transmit germs from one person to the other.
That's why glass soap dispensers are an improved choice.
It is safer than you'll be able to get soap while not touching it directly.
Durable
The durability of a glass dispenser depends on its quality.
However, a moderate-quality glass dispenser will last years. As long as you take care of it, you will be able to enjoy it for life.
It all depends on how careful you're, whereas mistreatment it.
Strong Base
These soap dispensers are made of significant, thick glass with nice optical clarity. They cannot be breakable simply.
The most basic style enhances your home and is both classy and trendy.
This fashionable pump dispenser is accustomed to working as a dispenser for the toilet and room, a dish dispenser for the kitchen sink, or a hand sanitizer dispenser.
How do you fix the Glass Soap Dispenser Set?
Your dispenser must be repaired and maintained to work properly.
However, it often happens that the dispenser suddenly stops functioning, so what should you do then? It may be due to a clogged pump. For this, you should remove the pump and clean it properly.  
FAQs
What is the size of the simplest glass soap dispensers on the market?
There are several different types of glass soap dispensers available on the market, each with its own advantages. For instance, the dimensions of a MaisoNovo Glass Soap Dispenser set with a tray are 11.8"L x 7.8"W x 3.9"H.
What are the benefits of using a glass soap dispenser?
Glass soap dispensers have some advantages, including their ease of cleaning, the addition of class to a restroom, and the fact that they're extra durable than plastic ones. These bottles are made from fortified glass material that is highly reliable and meets environmental standards.  
Furthermore, the glass soap dispenser is reusable, waste-reducing, and environmentally friendly.
Glass soap dispensers can be used with liquid and foaming soaps. Pump soap dispensers are far more hygienic than regular bar soaps since they prevent soap from drying out and becoming infested with bacteria. Also, a glass soap dispenser set with stainless-steel pumps is also very durable and simple to clean.
Wrap Up
Investing in soap dispensers is, of course, a worthwhile investment. By maintaining hygiene and health, they prevent infections and diseases caused by cross-contamination and keep users safe. Due to these current pandemic scenarios, soap dispensers are valuable purchases.
When you purchase the best glass soap dispenser with a tray, you're getting a product that will last you a lifetime. The high-quality materials have a modern look that goes well with farmhouses, Boho decor, or modern homes. With this glass soap dispenser set, you'll always have fresh soap on hand.
---